The image that Hugh Grant's name conjures for anyone over thirty is likely a distinct one: floppy, unkempt chestnut hair most would envy, magnificent blue eyes which could seemingly bore into the soul, and perhaps one of the most bright, endearing smiling to ever grace celluloid, complete with a rather prominent set of dimples (see the poster for the 1995 film Nine Months for further evidence). The visual is likely complemented by a honeyed British accent, bumbling vocabulary, and a shy demeanor. It is a personality that was the fixture of many beloved romantic comedies, particularly throughout the 1990s. Though Grant himself states the roles are not representative of his own personality, the character structure he favored during that part of his career has left an indelible mark on the portrayal of love in pop culture.
American fans caught their first glimpse of Grant when the British romantic comedy Four Weddings and a Funeral exploded at the box office. The thirty-three-year-old already had over a dozen film and twenty television credits, including characters of a variety of backgrounds, archetypes, and even sexual orientations. However, it was the role of Charles, a bumbling, endearing Englishman who pines for Carrie (Andie MacDowell), an American with whom he shares a near instantaneous connection with at two of life's landmarks: weddings and a funeral.
Charles was not intended to be outwardly attractive to women, which was one of the reasons screenwriter Richard Curtis fought the casting of Hugh Grant, fearing he might bring too much charm and smoothness to it. In fact, Grant's costumes and haircut were intended to offset his appearance. However, as evidenced by his meteoric rise to international superstardom and popularization of the aforementioned haircut, it appeared that the charming British-ness of the character and his actor were anything but unappealing.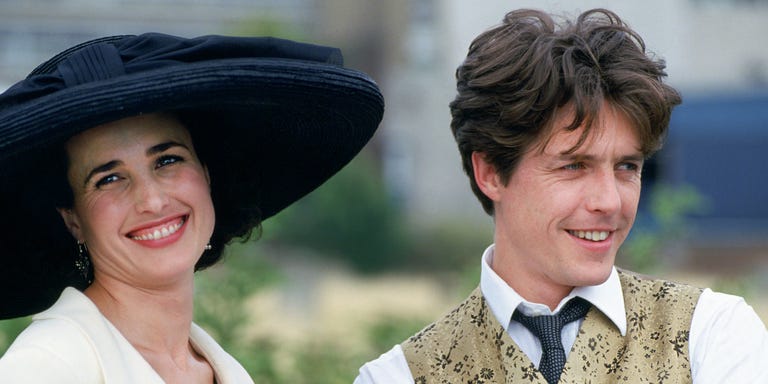 As a rather awkward millennial, I find it nearly too easy to relate to, and most certainly crush on, Charles. He says the wrong thing at inopportune moments, fumbles his words when he's trying to be impressive, and is constantly brushing back his unruly hair with his fingertips. Still, though, you find yourself smiling when he talks, your heart aching when Carrie casts him aside after each one-night-stand, and and your own fingertips itching to brush his hair back for him. Charles is likely a person many a person you've been friends with and never noticed, which is a pattern I've found in Grant's lovable rom-com characters. Many of them are the types of men women claim they would like to date or be in a relationship with, and yet they are also the type we tend to walk on by in favor of a smooth-talking beautiful disaster a la Daniel Cleaver, another iconic Grant role.
Despite Richard Curtis's initial opposition to casting Hugh Grant in Four Weddings, the two worked together on four subsequent films to date as well as two short sequels to feature length films. The leading man roles in two of the films (and the shorts) bear some echoes of Four Weddings' Charles, usually in the bungling of words and ineptness in social situations, which is perhaps what inspired their second collaboration.
Notting Hill is widely considered a standard in the world of film romance. At the time of its release in 1999, it paired Grant with Julia Roberts, easily the biggest film star in the world and the queen of romantic comedies. The film follows Grant's William Thacker, a bookshop owner who bumbles his way into the heart of Roberts' Anna Scott, a stratospherically successful film actress. Their journey to happily ever after is funny, touching, and sweeping, a true romantic's dream, and much of it is thanks to Richard Curtis' carefully crafted, swoon-worthy creation, particularly where the hero is concerned.
Will Thacker certainly bears resemblance to Charles in his general social awkwardness, constant ruffling of his glorious hair (which earned Will the childhood nickname of Floppy), and introverted personality. However, the difference in the character is an increase in maturity. Where Charles fears commitment, which leads to many of his romantic troubles, Will is more established, albeit unsuccessful, in life. He is divorced and has a career, uncertain as it sometimes appear.  He retains that endearing awkwardness and boyish streak, but there is a more seasoned approach, particularly in the moments where he stands his ground and admits that his "relatively inexperienced heart" could not stand to be broken again.  Whereas Charles from Four Weddings could be viewed more as the young adult crush, Will is an adult take on a sensitive, romantic male in love who, while willing to take a risk, also does not want to be walked all over like he was in the past (though he certainly has his pushover moments).  It is growth in the writing of Richard Curtis as well as the character archetype he embraced with Grant as his instrument.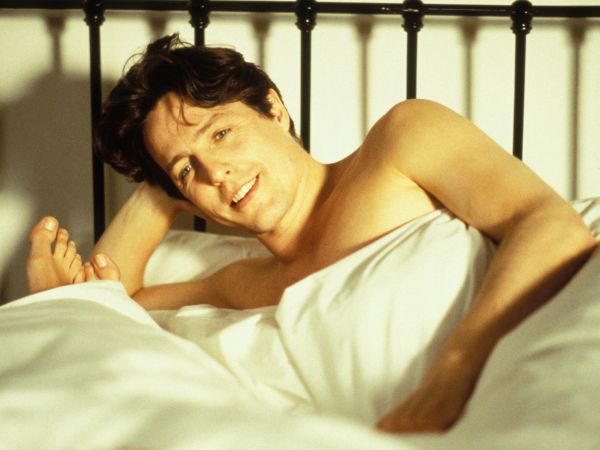 Curiously enough, this film also follows a similar pattern to Four Weddings and a Funeral in that the heroine is the more "experienced" in relationships than the male charcter, or is at least presented that way.  In film and novels, there is a tendency to lean toward the male character being more experienced and always knowing the perfect line or having an impeccable appearance, whereas the former and Notting Hill rely on a more sensitve leading male character and a wordly, nearly cynical leading lady.  It is a refreshing structure, and perhaps that is what has made Will in particular one of the most endearing romantic leading characters of all time.
Following some branching out into more caddish roles such as sleazy boss Daniel Cleaver in two Bridget Jones films, billionaire playboy George Wade in Two Weeks Notice, and a critically acclaimed turn as Will Freeman in About a Boy, Grant reunited with Richard Curtis for the writer's directorial debut, the British rom com ensemble Love Actually. Co-starring Emma Thompson, Alan Rickman, and Colin Firth, the film is like a beautifully wrapped gift chock full of intertwining love stories. This turn has Grant as David, the newly elected British Prime Minister who is instantly entranced by Natalie (the adorable Martine McCutcheon), his equally charming household staff member, who find themselves in the midst of flirtatious banter and a rather uncomfortable misunderstanding following a run in with the U.S. president, which leaves David questioning Natalie's intentions.  Capped off by an iconic dance scene and the genuine sweetness of David and Natalie's slightly clandestine attraction, it is the lovely centerpiece of the film, integrating the freshness and hopeful spirit of new love found in a most unlikely circumstance.
Where Will Thacker certainly expanded on the maturity of Richard Curtis's character archetype, David continues that progression.  Some of that may have to do with age, both of actor and writer, as Grant was forty-three in this film, compared to thirty-eight in Notting Hill and thirty-four in Four Weddings, but it likely also simply the evolving of a familiar character arc.  Grant has stated in interviews that he believes many of the leading male characters are inspired by Curtis himself, therefore this would provide an explanation as to the more edgy approach.  David maintains that sweet, sincere sensitivity consistent with the previously discussed characters, but there is also increased assertiveness and confidence, exercised in particular during his interactions with the American president, where a determination to exert authority and strength is very evident.  This could also be due to the very nature of the character who is, after all, supposed to be a politician and therefore would need a thicker skin and more cutthroat approach.  Those actions are sharly contrasted by his demeanor with Natalie, who confides in him about her ex-boyfriend who ended their relationship because she was "getting fat," to which David's eyes widen and he offers to have him murdered (in a completely joking manner), all the while stealing a conversation whenever he can just to be around her.  It is that multi-layered approach that shows the growth of the character archetype, making the character unique yet familiar.
These days, the 58 year old actor's iconic locks have long since been trimmed short, speckled with gray, and a few wrinkles are now etched in the expected places.  He last appeared in romantic comedy a decade ago, alongside Sarah Jessica Parker in Did You Hear About the Morgans? (2009).  He has embraced more complex characters in the years since, receiving critical acclaim for roles in Florence Foster Jenkins and more recently, A Very English Scandal.  Despite this gradual metamorphosis and increased honing of his craft, none of it diminishes the roles that built Grant's career and established his place in the public consciousness.  In fact, it perhaps encourages admiration for an actor who broke free and reinvented himself at a time in his career when many flounder and struggle with their identity.
The "Hugh Grant archetype," as I've come to describe the Richard Curtis-crafted male leads, is one that is distinctly belong to the actor and screenwriter.  Rarely are romantic leads, particularly as we approach the second decade of the twenty-first century, so genuine, romantic, and gallant, yet not conventionally with eloquent vocabulary or seamless way about them.  In a world where sincerity is always an uncertainty, the portrayal of a man who retains sensitivity and strength, balancing both masculine and feminine qualities, is refreshing, unique, and enduring.  Perhaps that is why these romantic films endure, for they do not rely on a suave, alpha ladies' man to sweep a delicate flower of a heroine from a life of toil.  Instead, they show that often what we seek is right in front of us, sometimes in a more muted, unsuspecting package than we would expect.  All we have to do is dig deeper and brush back the surface.
Sound off below and let me know your favorite Hugh Grant film in the comments!