June marks Pride Month, which simultaneously commemorates the landmark Stonewall Uprising of late June and early July 1969 as well as a celebration of the LGBTQ+ community. In the years since Stonewall, the LGBTQ+ community experienced its share of celebrations and tragedies, from the elation of the sexual liberation in the 1970s to the heartbreaking tragedies and unwarranted prejudice of the AIDS pandemic and into today where a continued fight for equality rages despite the ability to more freely express sexuality in many parts of the world. While Pride this year looks quite different due to the global COVID-19 pandemic and will occur in mostly virtual spaces, this allows for other expressions of triumph and joy to be enjoyed. Film, particularly in the past decade and a half, has been a medium in which stories which for so many years were repressed with regard to sexuality from mainstream media. To celebrate Pride Month, I have compiled a list of my favorite gay film couples, a list that I hope to expand as I view more films with couples of all sexual preferences and gender identities.
5. Maurice Hall and Clive Durham, Maurice (1987)
Though subtle and even more overt LGBT films existed at the time Maurice was released in 1987, the film marked a turning point. A period piece at its core, the film follows Maurice (James Wilby), a young man struggling with his sexuality in the early part of the twentieth century. While at university, Maurice develops feelings for his friend Clive (a pre- Four Weddings and a Funeral Hugh Grant), and they engage in a brief romance. However, social and family pressures soon wear on Clive, and after witnessing the arrest and conviction of an acquaintance for soliciting sex, he elects to suppress his sexuality and align with norms. While their short-lived love affair transcends into a rather troubled friendship, as Clive marries and Maurice continues to desperately seek out his own destiny. Though perhaps not the most uplifting of love stories, Maurice and Clive evoke the repression and feelings of obligation present in society that hung over many gay men at one point or another. The juxtaposition of Clive who caves to these expectations and Maurice who defies them in the name of love makes for a bittersweet watch, and while these two perhaps were not destined for one another, what they shared for a flickering moment reminds viewers of their own relationships that simply weren't meant to be.
4. Elio and Oliver, Call Me By Your Name (2017)
Call Me By Your Name will perhaps be considered one of the quintessential LGBTQ+ coming of age films, exploring perhaps one of the most confusing times in a person's life. In the film, seventeen-year-old Elio (Timothée Chalamet) shares a summer romance with Oliver (Armie Hammer), his 24 year old tutor whose come to stay with his family. There's a forbidden aspect to it, a theme often present in coming of age romances, but layered with questions with regard to sexuality and the frankness of the film itself, Elio and Oliver's relationship feels fresh, bittersweet, and completely relatable. Coupled with beautiful performances by Chalamet and Hammer, it's a film that feels intimate and resonates with the viewer long afterwords, and Elio and Oliver are a pair that will not soon be forgotten, not only for their emotional impact, but the cultural one as well.
3. Jonathan & Gethin, Pride (2014)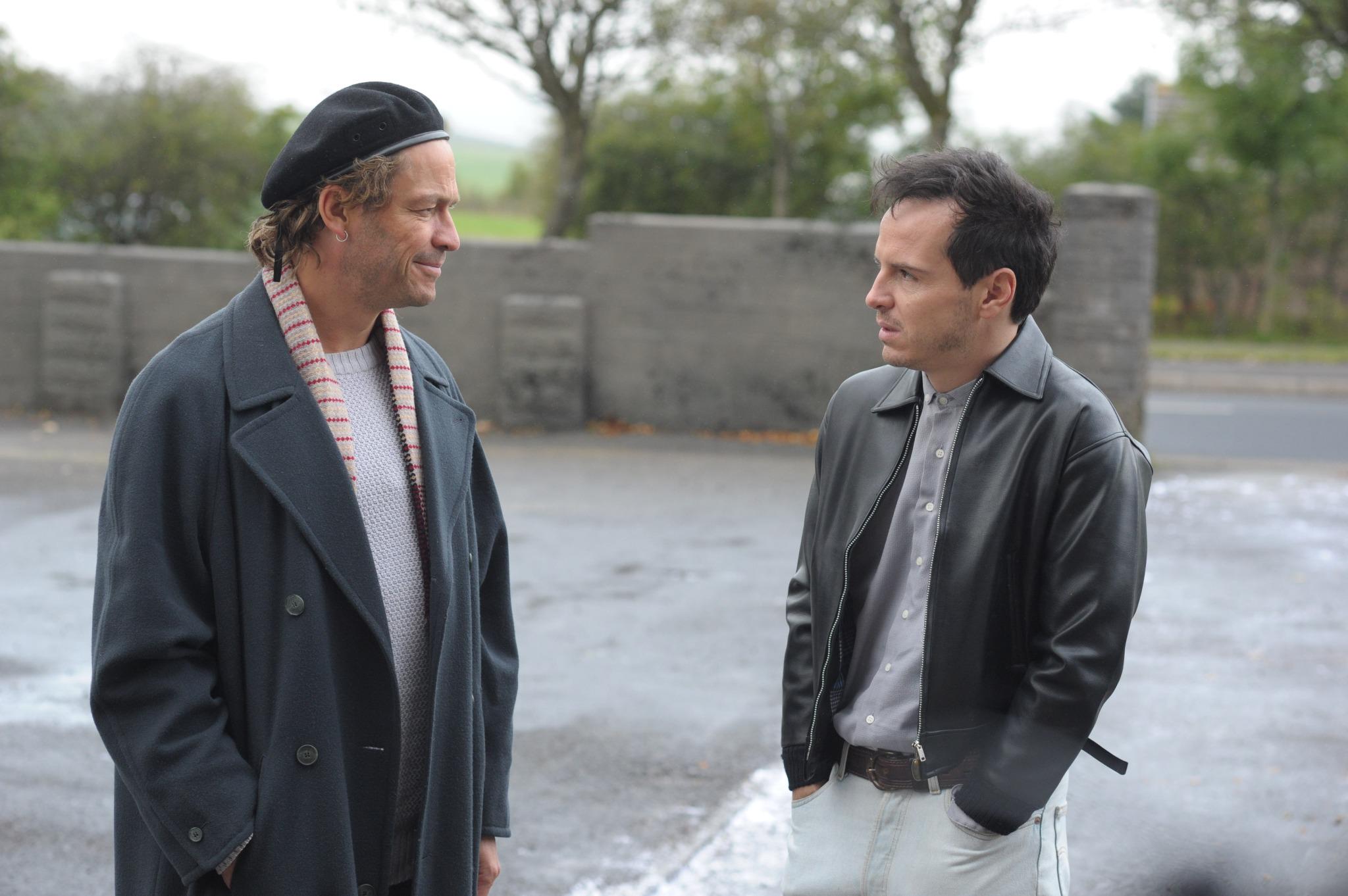 Pride is the true story of a group of gay and lesbian advocates who rallied around and raised funds to assist a group of miners during the union strike in the mid-1980s. While the focus of the film is the incredible determination of a group of people and their willingness to help others in the face of adversity despite an initially cool reception, the relationships within the group are a guiding force. Among the inspiring, free-spirited young adults are Jonathan and Gethin, a couple who join the cause, with Gethin's gay bookshop serving as the unofficial home base for Lesbians and Gays Support the Miners (LGSM). In a group comprised mostly of young adults still seeking purpose and identity to some extent, Jonathan and Gethin's established relationship adds a sense of endearing homeyness to the film. Jonathan (the delightful Dominic West) is the epitome of the extrovert, an actor who exhibits wisdom and charm, a man fully confident in his identity (he also knows his way around a dance floor, as evidenced by one of the film's most memorable scenes). His partner Gethin (the beautifully nuanced Andrew Scott), is a soft-spoken, nearly morose bookshop owner who, while acceptant and embracing of his sexuality, harbors heartache over his family's unwillingness to embrace him when he came out. Jonathan and Gethin's moments together are sweet and reassuring, a perfect representation what many of the characters in the film likely seek, the stability and true pride in who they are, both as individuals and as a couple. While they are the only twosome on this list whose story is not the forefront of their film, their sweet, grounded love story provides another glimmer of hope in a truly inspiring film.
2. Ennis Del Mar & Jack Twist, Brokeback Mountain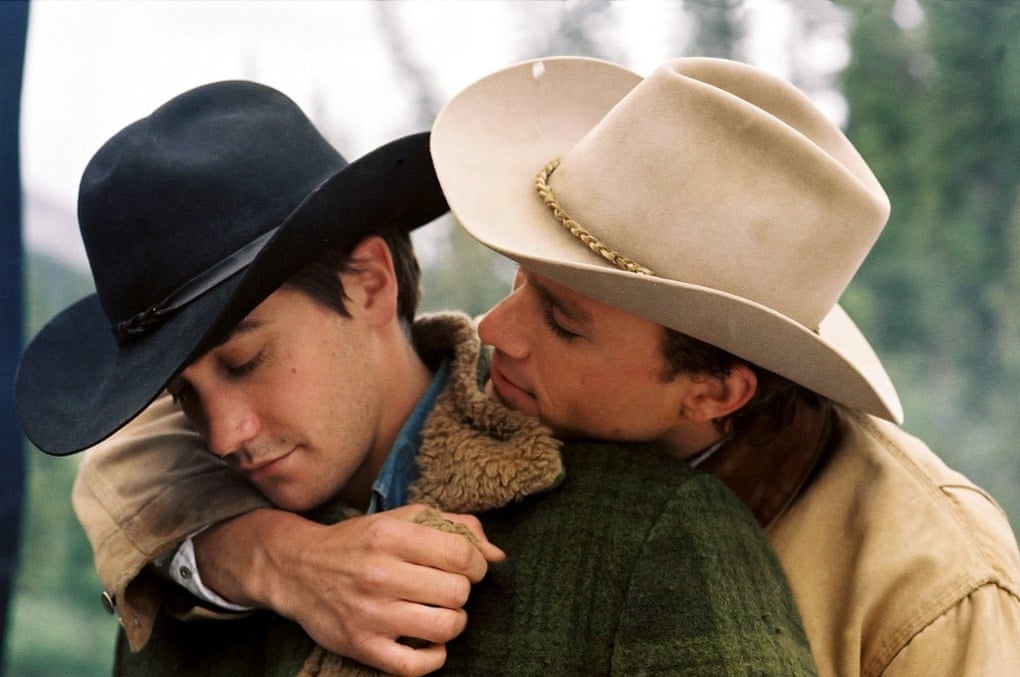 Brokeback Mountain is undoubtedly one of the most groundbreaking and influential LGBT films of the past two decades, and it's due to the delicately told tale of Ennis Del Mar (Heath Ledger in such a moving performance) and Jack Twist (Jake Gyllenhaal), two men who fall in love over the course of a summer spent working on Brokeback Mountain herding sheep. Over the course of the next two decades, the two of them marry women and have children, but their hearts remain with one other they meet periodically for passionate getaways disguised as fishing trips, a love that excites, confuses, and challenges everything they know about relationships. Ennis and Jack's love story is tender and ardent, exemplified in a simplistic sense by the film's most famous and equally harrowing quote: "I wish I knew how to quit you." No spoilers here, but to call this star-crossed lovers' journey a tug at the heartstrings would be to vastly underrepresent the emotional and cultural impact of the film and the heroes' romantic trials and tribulations.
Ned Weeks and Felix Turner, The Normal Heart (2014)
Perhaps this will be a controversial and unconventional choice, but this was the pair that came to mind when brainstorming this post. Based on Larry Kramer's riveting 1985 play of the same name, The Normal Heart is an autobiographical work rooted in Kramer's own experience in the early years of the AIDS pandemic. The plot centers around a brave group of gay men in New York City in the 1980s who fought for treatment, equality, and funding to combat the crisis all the while dealing with the loss of lovers and friends. The film is a feat overall, a raw look at the oppression and fear experienced in the gay community during one of the most tragic periods in the history of the LGBTQ+ communities, which truly leaves the viewer feeling like they are losing friends as the film continues. The love story between Ned Weeks (Mark Ruffalo) and Felix Turner (the impeccable Matt Bomer) is its core, equal parts sweet, tear-jerking, and inspiring, a faded page torn from the lives of far too many, and is perfectly encapsulated by the line, "We are losing an entire generation," delivered heartbreakingly by Jim Parsons' Tommy Boatwright. Felix's quiet strength is the perfect balance for Ned's vehement passion, not only in their relationship, but in the fight against the disease that threatens the love they found in each other. While it may be a love story bound to break your heart, it is also one that resonates not just because of the deep love between Ned and Felix but because it captures the beauty and darkness in one of the most pivotal moments not just in the history of the gay community but of humanity.
Let me know in the comments who your favorite LGBTQ+ pairings are in film and TV, and I'd also love to hear how you're planning to celebrate Pride 2020!