Romance is easily one of the most chastized (and yet oddly, most profitable) genres in the fiction industry.  It serves as the butt of jokes for a variety of reasons, although many of these statements are generalized or simply due to lack of firsthand knowledge of the genre.  In this week's post, I have chosent to explore what I have found to be the most common misconceptions about romance novels and the peole who write them.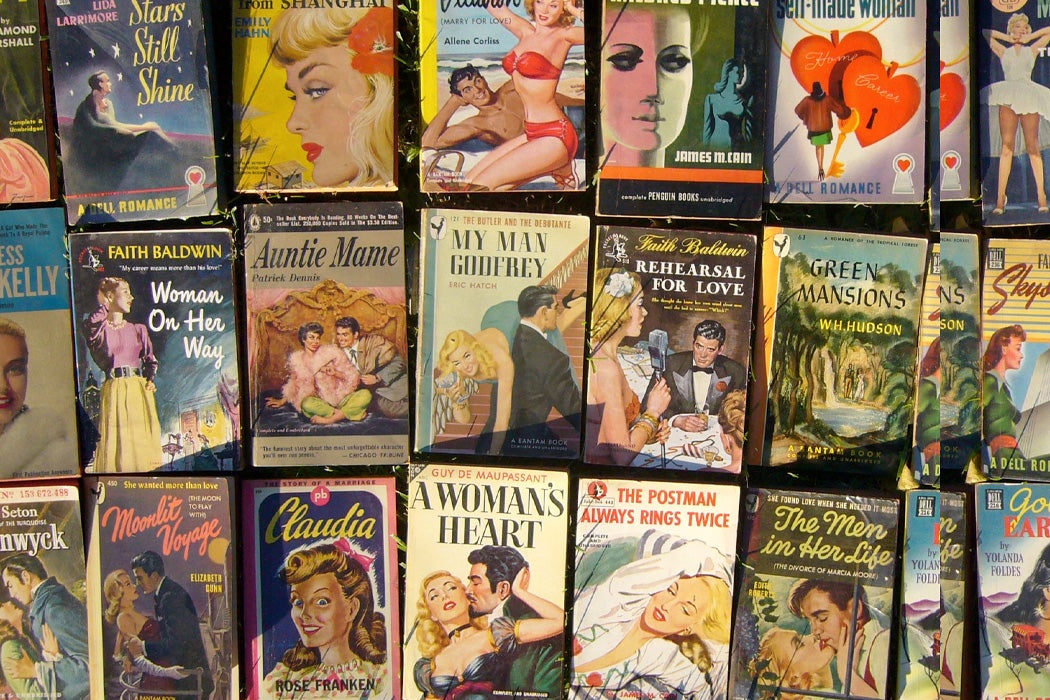 Romance novels are "just fluff."
This is easily the most common condemnation of the romance genre.  Its critics state that romance novels have no substance.  However, just like films or any other medium, romance novels have sub-genres, and while there are romantic comedies and more light-hearted novels, romantic suspense is very popular.  Romance novels, in fact, have a lengthy history of tackling issues like domestic violence, rape, and single parenthood.  These have also been consistent themes touched on since the advent of the modern romance novel in the early 1970s, not necessarily due to media attention on a specific event or movement.  As with any book, it's all dependent on the genre (or in this case, sub-genre), that the reader selects.
Romance novels are all about sex.                                                                                        This misconception is also known as "All romance novels are like Fifty Shades of         Grey."  Besides the fact that this can be easily disproven by the fact that the Christian romance genre continues to flourish, these generalized statements also dismiss the subgenres, which often dictate the "heat levels" of romances.  These heat levels range anywhere from no sexual activity at all between the heroine and heroine to vry explicit sex scenes, such as those in Fifty Shades and other erotic romances.  However, most romances fall into the "hot" category, where there is usually one or two descriptive love scenes and perhaps another one or two which are casually mentioned.  Safe to say that leaves another ninety percent of the novel reliant on character development rather than the sexual relationship of the characters.  While the intimacy often proves to be a progression for the characters, the focus of the story is their journey, though sex may or may not be part of that.  As a writer of the genre as well, it is also important to say that the intimacy of the characters (and the explicitness of the love scenes) is very character-driven and suited to the couples' personality.
Romance novels are predictable.                                                                                          This misconception is likely due to the fact that in order for a novel to qualify as a categorized "romance novel," the story must have a "happily ever after" or a "happy for now" conclusion.  While that might be the case, the journey to that satisfying conclusion is often rocky.  Obstacles drive the plot of any novel, and while romantic endings generally have a "walking off into the sunset" conclusion to look forward to, that does not make the voyage less frustrating or even sad at times.  This is particularly true for series that follow a singular couple, such as Sylvia Day's Crossfire series, which took five books for the characters to reach their "happily ever after," with an emotional, exhausting journey along the way.  While perhaps not having a ponder-worthy ending, many romance novels remain etched in the mind long after the final page is turned, be it character development, education about a social issue, or unimitatable chemistry between the couple.
Romance heroes and heroines are flawless.                                                                     This assumption is slightly easier to understand, especially if romance novel covers were truly representative of what lay between the pages of these books.  However, it can also be disputed that, like all of us, the heroes and heroines in these novels have their flaws, both physically and emotionally.  It can be a scar on their face, a physical impairment, or a past trauma, and these add layers to the characters, enhancing their realism.   In recent years, there have been many authors who have further embraced this push for representation of the true female size, including heroines labeled as "plus-sized."  This inclusivity adds for further character connections, and therefore a more enjoyable reading experience.
Romance novels are written by middle-aged women surrounded by a plethora of cats.                                                                                                                                            So maybe this is little specific, but there certainly is a belief that the people behind the romance genre are middle-aged spinsters.  In fact, the irrelevancy of this can be easily disputed by the fact that there are male romance novelists as well as LGBTQ+ writers who continue to expand their reach within the genre.  People of all backgrounds write romance, and nothing about their "real world" personality need explain what they choose to write.  Of course, there is also the obvious fact that the age, marital status, sexual orientation, etc. of the author is irrelevant to storytelling, but that could be a post in itself.  I, for one, am twenty-four, but read romances written by authors of a variety of age ranges, genders, whatever demographic area chosen.  At the end of the day, it's not what matters, but it proves to be another nitpicking point (or perhaps humoring point) for critics of the genre.
Romance novels are only read by middle aged women.                                                As someone who was a mere fourteen when I began reading romances, I can dispute this fact from my personal experience.  However, most romance writers state that they began reading the genre around a similar age, which leads me to believe that the genre is read by a wide age range, from teens to people in the aging population.  This could account for romance being one of the top selling genres in the fiction industry, though this is not a widely publicized fact.  In fact, many of the heroes and heroines in these novels are in their twenties and thirties, so it makes sense that people within those age brackets would also be drawn to these stories, as it is yet another point of relatability.  These are novels full of love, passion, and overcoming the obstacles, and these are plot points that many people can connect with.
Thoughts on this?  Have you encountered any other misconceptions about romance, or do you have any others you're aware of that you would like addressed?  Sound off in the comments below!